It is not all I had envisioned in the end, because of a Mod Podge Fail, but I think she is still light and better than that big hunk of brown thing that I brought home.
She came with these copper plated hinges so she got to keep them.
I am spending tomorrow at my mom and dad's (a couple of miles away) to have my first ever sale. I did not paint the inside of this hutch, because to be honest, it is massive! If no one buys her as is, I will do a little more to the front and sides to decorate, and whom ever does eventually buy her, will get the option to have the inside painted for a small fee.
Here is the Before:
The windows in this piece were so disappointing! While they look like they have mesh wire in then, it is actually like a plastic kinda 70's style mess of Yuk! While that was what originally caught my attention, I had decided to proceed with buying it and making it over. I wanted to use lace in place of the plastic yellow mess, but in my town, I can't just run to JoAnn's a get the fabric. I had this white fabric with light bluw lines on hand, so decided to use it.
In the long run, the white fabric and light blue lines enhanced the light gray paint of the unit and made me very happy with the results. I hot glued it in before reattaching the little rails that were there to hold the yellow plastic in.
Your input really does make a difference in what I do.
What say you? Like? Or not so much?
Linking up with the following Ladies: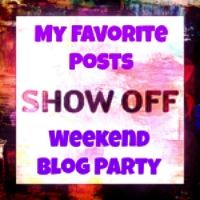 And Linking to